News
Kristina Ganzinger member of De Jonge Akademie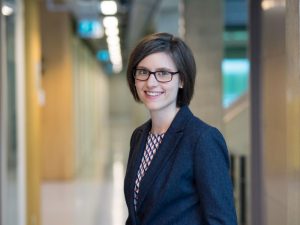 The KNAW has selected ten new members for 'De Jonge Akademie', one of which is AMOLF group leader Kristina Ganzinger (Physics of Cellular Interactions). Members of 'De Jonge Akademie' are researchers who are interested in the role science plays in society and who have finished their doctoral studies less than ten years ago.
As a member of 'De Jonge Akademie', Ganzinger wants to advocate a fair and inclusive scientific environment to bring out the best possible science, and also share her passion for open science. Ganzinger wants to use her extensive experience in interdisciplinary research to help researchers from different disciplines to connect with each other, but also use that knowledge to critically examine the challenges funding bodies face when making calls for and assessing interdisciplinary research projects.
The KNAW is the Royal Netherlands Academy of Arts and Sciences in the Netherlands.
Read more on the KNAW website.